Code:Hardcore is a upcoming 2D high-quality action platformer currently under development by RocketPunch Games. It was Kickstarter funded in September 2016 and is expected to release in Q4 of 2017. A demo is available on the Kickstarter site. The game was inspired by titles such as BattleMech, Robot Wars, Call of Duty and Metal Slug.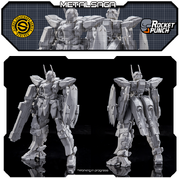 Metal versions of the Mecha will become available after the game launches, starting with ThunderBolt. They will be 7.2 inches tall and will be created by Climax Creature Series, one of the largest toy manufacturers in China. Players can pre-order the toys now.
Overview
(From the Kickstarter description)
A.D.2219
As the biggest unstable factor in human civilization for a long time, rebels on Mars launched a sudden attack, leading to an unprecedented crisis to Earth. Rebel Forces assembled a grand army, blitzkrieged every Jump Stations on the route between Earth to Mars. To human civilization, these crucial Jump Stations are the only connection to reach space colonies. Losing them resulted in a great advantage for Mars Rebel Forces.
After the Lunar colony collapses, Rebel Force has completely cut off the connection between Earth and other space colonies. They are ready to take over Earth at one shot. Meanwhile, Earth United Nations Forces are regaining their force. They have prepared to launch a massive counterattack and positioned with their top secret plan... Mecha
With the expansion in the human cities and space colonies, fighting in the complex terrains such as city streets and mountains have become more and more problematic. Thus, a new effective weapon must be developed to counter these tough scenarios. And the Mecha was born! They are 26-foot tall humanoid robots that have the most mobility and thickest armors to support tanks and aircraft.
The tanks are good for open terrains, aircrafts are excellent for aerial warfare, and Mechas are perfect for urban operations.
Media
Images
Videos
References